From Humble Beginnings
In 1976, in the basement of his family home, Graham Cammell filled his first jar of honey using a hand operated packing machine. During that first year, we served the local market. Today, as we export around the world, we find ourselves very thankful that Graham decided to upgrade the old hand operated packing machine!

We've also changed premises a few times over the years. The business quickly outgrew the basement and this led to the construction of a "Honey-House" in Mangere. The wholesale shop became a favourite with local's, and the buildings were added to regularly as the business expanded. Our most recent move has seen us relocate into a purpose-built facility in Clevedon.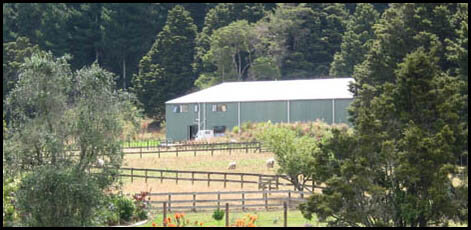 A Family Business
Cammell's Honey is a family owned and operated business. Graham has been joined in the business by two sons and a son-in-law. Completing the team is one of Graham's longtime friends. Together we have more than 30 years of experience when it comes to dealing with bees and honey.
Hives and Honey
We run approximately 350 hives in the greater Auckland region. In the early spring, our bees pollinate the crops of kiwi-fruit, macadamia nut and even pumpkin growers. Our hives are then moved into their summer spots, where they produce delicious Pohutukawa, Manuka and Pasture honey. This honey is extracted in the field and then brought back to our premises in Clevedon to be filtered and packed.
In order to supply varieties from all of New Zealand's distinctive honey producing regions, we rely on a network of experienced beekeepers - many of whom have been in beekeeping for longer then we have.
The Cammell's Honey Logo
The Cammell's Honey logo is a depiction of a beehive, or more specifically a depiction of a skep. A skep was one of the first types of hives to be used in Europe - and is a common symbol for a beehive.

For us, it is a symbol of the tradition of beekeeping and our commitment to producing quality bee products.